We currently only have a portion of our products listed on this site.
If you are interested in purchasing from us, please give us a call at 904.356.6543.
ALS Field Guide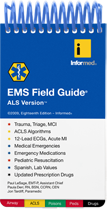 The Eighteenth Edition EMS Field Guide® ALS version has been updated with the latest CPR and ACLS algorithms from the AHA. This handy guide makes it easy for paramedics, nurses and physicians to look up their patients' medications, check drug doses, quickly interpret 12-Lead EKGs and much more! At only 3"x5" it easily fits in your pocket, has color-coded tabs, and is waterproof, alcohol-fast and durable.
$21.95
Critical Care Field Guide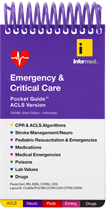 The most popular pocket reference in emergency nursing is now available in a completely updated sixth edition. The Emergency & Critical Care Pocket Guide has been an essential resource for physicians, paramedics and nurses for over a decade. The ECCPG consolidates the critical information found in desk references into a convenient 3"x5" pocket-size format that is handy enough to take with you anywhere.
$21.95
Nims Field Guide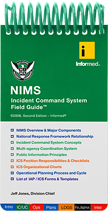 This 3" x 5" reference guide clearly and concisely outlines what you need to know about NIMS objectives, whether you're at the local, state or federal level, and in private industry. The all-hazards, non-jurisdictional or discipline specific guide also provides responsibilities and checklists for applying the Incident Command System (ICS).
Tough, waterproof, and alcohol-fast, this handy guide can be used for NIMS and ICS training, during training and functional exercises and, most importantly, in the field where you need it most. Combine this guide with your training and feel confident that your NIMS compliance requirements are met.
$21.95
Stat-Line Industries - 2050 Haines St. Jacksonville, FL 32206 - 904.356.6543
emergencyvehicleparts.com | brettandersondesigns.com